Few contemporary crime and mystery writers produce work that is as meticulously plotted, fiendishly clever, and riotously entertaining as that of Anthony Horowitz. For decades now, the prolific British author has captivated millions with his brand of intrigue, suspense, and murder most foul. Young readers have avidly followed the high-octane exploits of his teenage spy, Alex Rider. Viewers have immersed themselves in his TV series, in particular the much-loved (and much-missed) Foyle's War, a period drama not about a soldier on the battlefront but a detective on the home front.
However, it is Horowitz's adult fiction that best showcases both his versatility and his ingenuity. This consists of three categories. There are his continuation novels commissioned by the literary estates of Sir Arthur Conan Doyle and Ian Fleming. Successfully ventriloquizing these past masters — and indeed formative influences — while at the same time making sure his own voice could be heard, Horowitz devised two original adventures for Sherlock Holmes and three new missions for James Bond. In doing so, he put these classic heroes back in business and in the rudest of health.
A second category of Horowitz's fiction comprises two towering achievements. Magpie Murders (2016) and its follow-up Moonflower Murders (2020) took the form of one complex and intricately crafted whodunit within another. For publisher Susan Ryeland to solve her mystery and catch her killer, she has to find and make sense of the clues that one of her former authors has scattered throughout his novels featuring the world-famous sleuth Atticus Pund. Each book saw Horowitz bending the rules and pushing the boundaries of the crime novel while also giving his fans two cases for the price of one.
Then there is the Hawthorne and Horowitz series, in which the writer's fictionalized alter ego appears alongside a brilliant ex-detective-turned-private investigator as both his chronicler and his second-fiddle sidekick. Over the course of three novels, this unlikely duo — "Anthony" playing a bumbling Watson to Daniel Hawthorne's quick-witted Holmes — has provided fun and excitement through a steady stream of tight scrapes, confounding puzzles, and witty banter.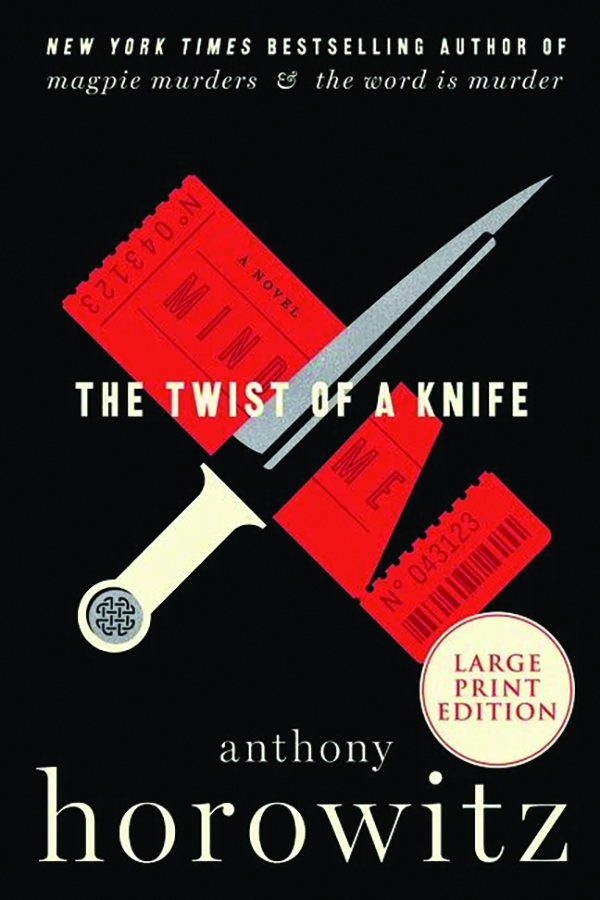 Rather than end with a trilogy, Horowitz has now brought this pair back for another outing. At first glance, The Twist of a Knife seems to offer more of the same. On closer inspection, it becomes clear that this time around, the stakes are considerably higher and the protagonists' forged alliance stronger due to desperate circumstances, for one man depends upon the other to solve a murder so as to clear his name and secure his freedom.
At the outset, Anthony makes it known to Hawthorne that their partnership is over. He lists his reasons. During their three investigations, he has suffered pain from two stabbings and a great deal of wounded pride from getting everything wrong. He wants to be back in control, not in Hawthorne's shadow. He also wants to get back to writing novels — not charting experienced events but using his imagination and working toward an ending of his choosing.
The men go their separate ways, and the reader waits to discover what will bring them back together. Anthony quickly turns his attention to more pressing matters. His play, Mindgame, about lunatics taking over an asylum, is about to open at the Vaudeville Theatre in London's West End.
Opening night comes, and the performance seems to go smoothly. At a party afterward, Anthony mingles with the cast but also with a gate-crashing critic, acid-tongued, poison-penned Harriet Throsby, who has "a malicious streak as wide as the Gulf of Mexico." Later, he and the actors are given an ornamental dagger as a first-night present. Celebrations continue backstage at the Vaudeville until the mood is altered by a first review — Harriet's hot-off-the-press hatchet job. In her opening salvo, the critic slates the comedy thriller for being "neither comedic nor thrilling." She advises Horowitz to "stick to children's books."
The next day, the police show up at Anthony's door and inform him that Harriet was stabbed to death. The evidence points to him being the killer. His dagger was the murder weapon, one of his hairs was found on the body, and CCTV captured a man resembling him at the scene of the crime. His motive, he learns, was Harriet's scathing review. "It's critics who kill writers," he scoffs, "never the other way round." When he is taken into custody, he realizes that the only person who can help him is the one he recently washed his hands of. Fortunately for him, Hawthorne responds to his call for help. Both men are given 48 hours to find the true culprit. But does Hawthorne completely trust his companion? "Why," he asks with a smile, "would I believe someone who spends his entire life making stuff up?"
The Twist of a Knife gets off to a shaky start, with any potential surprises stymied by Horowitz's obvious signposting: The dagger is Chekhov's gun and the victim a nasty piece of work who had it coming to them. But then things turn deliberately and deliciously murky, with no end of sharp twists and wrong turns. Horowitz, a master of misdirection, repeatedly throws us off course while simultaneously keeping us invested in his characters, transfixed by each new development and propelled along by the constantly stoked narrative momentum.
The novel opens up when Hawthorne and Anthony question suspects. Harriet's widower, Arthur, and her daughter, Olivia, come clean and admit they hated her because she ruined their lives. The Mindgame cast members reveal hidden sides and true colors.
Horowitz thickens his plot by having Hawthorne cast his net wider. Soon, the detective is tracking down blasts from Harriet's past and reopening old cases, all too aware that "murders cast long shadows." Horowitz ramps up the tension when his fictional self becomes a wanted man and then steers his reader toward a denouement that would make Agatha Christie proud.
It is not just the grand finale that is Christie-esque. The Queen of Crime's influence can be felt everywhere. "What it comes to in the end is that everybody, perhaps, is capable of murder," says the narrator of Christie's 1949 classic, Crooked House. Not only are all of Horowitz's characters capable of murder. They also have a good reason for committing it. Like Christie, Horowitz invites us to play an elaborate guessing game in which we sift testimonies, evaluate clues, weigh up facts, and attempt to throw light on anomalies that range from a broken light bulb to a strange premonition to three broken cigarettes.
But Horowitz also ensures that the novel is infused with his own personal touches. Once again, he artfully blends fact and fiction and never wastes an opportunity to send himself up and put himself down. "If he killed every critic who had something bad to say about his work," remarks Hawthorne, "there'd be hundreds of corpses littered across the country." Hawthorne, at once intensely private and fiercely solitary, remains something of an unknown quantity. However, Anthony continues to conduct his own sleuth work to uncover the secrets and demons the detective closely conceals.
Many will file The Twist of a Knife alongside Richard Osman's books in that dubious category "cozy crime" — only a fitting categorization if your idea of cozy is cold-blooded murder and vengeance. It is better just to call it a thrilling and enthralling novel, one that sees the welcome return of an endearing double act.
Malcolm Forbes has written for the Economist, the Wall Street Journal, and the Washington Post. He lives in Edinburgh.